Cat Eye Nails
Everything indicates that Cat Eye nails or cat eye effect will be fashionable.
Using a specific theme for the nails continues to prevail where the focus has currently placed. Under the influence of the fashion of makeup in dark tones, this particular effect for your nails arrives.
Without hesitation, this is one of the most daring and original trends. This provocative style includes glitter effects, oval shapes, and opaque colours, seeking to achieve a ripped effect that simulates the eyes of these particular felines.
As we already told you, Cat Eye nails or cat eye effects are all the rage, and today we bring you a tutorial with magnetized enamels that are very easy to use, and the results are lovely.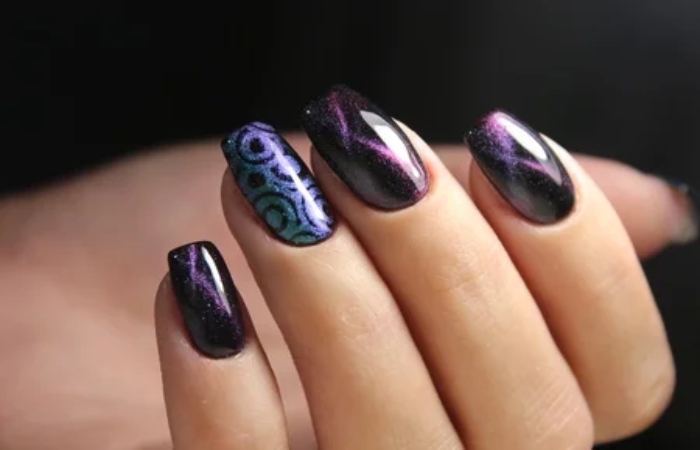 what will you need
Base coat for permanent enamel.
Magnetic enamel is specialized for cat eye manicures.
Top coat for permanent enamel.
Magnets for cat eye manicure.
The UV or LED lamp for drying permanent nail polish.
Nail polish remover.
–Cellulose gauzes.
Step by Step to get the Cat Eye Manicure
Essential: dark colours and lots of glitters. But before changing your hands' mood, we will explain why they call that. The goal is to get the same effect on your nails that light produces in the eyes of this animal. Do you know that diagonal hairline or that particular reflection that create? That's just what we want to simulate. But, wait a minute, do you remember the iridescent streak that your favourite marbles had? Well, you know extra what we are looking for!
Prepare your manicure
Immaculate nails? Yes.
Oval-shaped nails? Yes (it is the way that best fits).
Cuticles conveniently removed? Yes.
Base coat? No.
But why not? You already know that it is vital to start glazing. Spread a layer of Essie Strong Start, let it dry before starting with the colour, and now, you can begin to know that your nails will super protect calmly.
Start at the bottom
Apply two coats of black nail polish. Remember that the effect we are after in a cat eye manicure looks much better on this canvas. We suggest Like it loud from the Essie Gel Couture range. You can also opt for other very dark bases such as navy blue, almost black green or maroon. And you know that we see more and more cat eyes in light tones.
Go for the vein!
The most critical moment and where brightness comes into play. We are going to do it by hand. Still, there are specific products (in fact, they are called cat's eye nail polishes) that contain magnetic pigments that are activated in contact with a magnet that, when passed vertically or diagonally over the nail, causes the desired touch. What is our suggestion? Well, on the black base that you have, completely dry, take a more delicate brush, dip it in Essie's Penny Talk gold nail polish and, once well wrung out, slide on each of your nails an inaccurate vertical or diagonal stroke, like of a pass.
The grain can be any colour you like, as long as it's shiny. Don't forget that we need to recreate a kind of burst or wake that causes relief —like a 3D sensation— and the sparkles are crucial.
Crystal ball
In step 2, we suggested the black colour from the Essie Gel Couture range to get that glazed finish, like a marble, that we crave so much. To achieve it ultimately, finish your manicure with a layer of the top coat from the same line and be amazed by the transparent film with which it will wrap your hands and how the reflections (as a result of the grain and the light) will change depending on the inclination or move them.
Cat Eye Nail art is going viral on Instagram
This fall, Cat Eye Movie is breaking out of its liquid liner formula and going straight to your nails. A new nail trend, called "cat eye nails," is making the rounds on Instagram. The site consists of a diagonal line drawn directly through the centre of the nail, and like natural cat eyes, the lines vary. Some are straightforward; Some are crooked, some are fat, and some are thin. We've seen that most versions use a metallic strip to create a bright design, but you can make this with any two nail shades.
Also, like natural cat eyes, recreating this trend is more complex than it sounds. After painting the base coat, use metallic nail polish to create diagonal stripes. PopSugar says, "The key to giving your nails a cat's-eye look is to move the metallic pigment in the nail bed in the desired direction using a small magnet. Depending on how you position the magnet, the shape of the metal polish will change."
Conclusion
The Cat's Eye manicure adapts to nails of any shape and length and is a simple technique you can do at home. Nail art is an artistic way to paint, decorate, improve, and embellish nails. It is artwork that can do on fingernails and toenails, usually after manicures or pedicures.
Also Read: Lumiere Serum for Skin