April 2
There are 218 days left until April 2!
April 2 is the 92nd (ninety-second) day of the year in the Gregorian calendar and the 93rd in leap years. There are 273 days left to end the year.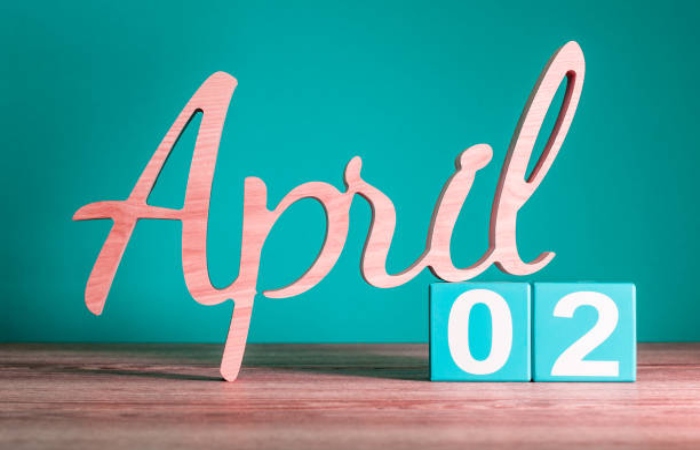 What happened on April 2?
1902: Inauguration of the Electric Theater in California, the first public cinema in the United States.
1910: The military aviation of Spain is born.
1912: The ocean liner RMS Titanic tests in Belfast to arrive later in Southampton, United Kingdom.
1933: The summer palace of King Alfonso XIII becomes the International University of Magdalena, later known as the Menéndez Pelayo International University.
1934: Manuel Azaña founds the Republican Left party.
1935: British physicist Sir Robert Watson-Watt patents radar.
1940: Publication of the work 'Poeta en Nueva York', by Federico García Lorca, in the United States.
1947: The UN gives the United States control of the Pacific islands.
1948: The Marshall Plan comes into effect.
1949: Approval of the text of the North Atlantic Treaty Organization (NATO).
1964: The USSR launches the space probe 'Zond 1' bound for Venus.
1968: The European Space Research Organization readmits Spain.
1972: Charles Chaplin returns to the United States for the first time after 20 years of exile due to accusations of being a suspected communist sympathiser to collect an honorary Oscar.
1978: CBS broadcasts the American series 'Dallas'.
1984: The King and Queen make their first official visit to Castilla y León.
1989: Mikhail Gorbachev arrives in Havana for a meeting with Fidel Castro to restore diplomatic relations between the two countries.
2004: Bulgaria, Slovakia, Slovenia, Estonia, Latvia, Lithuania and Romania join NATO as full members.
2010: The analogue blackout occurs within the national transition plan to Digital Terrestrial Television (DTT).
Who was born on April 2?
1840: Emile Zola, French writer
1908: Buddy Ebsen, American actor and dancer
1914: Alec Guinness, British actor
1925: George MacDonald Fraser, British novelist
1938: Martine Franck, Belgian photographer
1939: Lise Thibault, Governor of Quebec
1945: Guy Frequelin, French pilot
1947: Camille Paglia, American writer
1958: Larry Drew, American basketball player and coach
1959: Alberto Fernandez, Argentine politician and President of Argentina
1977: Michael Fassbender, German-Irish actor
1982: David Ferrer, a Spanish tennis player
1990: Miralem Pjanic, Bosnian footballer
Who died on April 2?
1914: Paul von Heyse, German writer and winner of the Nobel Prize for Literature in 1910
1928: Theodore Richards, American chemist and winner of the Nobel Prize for Chemistry in 1914
1956: Filippo De Pisis , Italian painter
1966: Cecil Scott Forester, British writer
1998: Rob Pilatus, German dancer and singer
2005: John Paul II, Pope and Polish saint
2007: Henry Lee Giclas, American astronomer
2009: Rudy Ventura, Spanish trumpeter and singer
2018: Winnie Madikizela, South African politician
2020: Goyo Benito, Spanish footballer
What is celebrated on April 2?
April 2 marks International Children's Book Day and World Autism Awareness Day.
Horoscope for April 2
According to the horoscope, those born on April 2 have the zodiac sign Aries.
Central of April 2
Saint Francis of Paula, Saint Theodora of Tyre, Saint Abundius, Saint Victor of Capua, Saint Nicecio of Lyon, Saint Eustasius of Luzeuil, Saint Leopold, Saint Dominic Tuoc, Saint Elizabeth Vendramini, Saint Francis Coll.
Conclusion
Now you know how many days are port until April 2. It is the 92nd day of the year in the Gregorian calendar (93rd in leap years). So there is 273 days port in the year.
Also Read: How many days till September 1?